Exploding Plastic Inevitable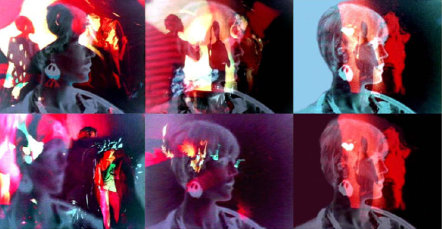 Still from Andy Warhol's Exploding Plastic Inevitable (1967) by Ronald Nameth
© Ronald Nameth, courtesy the artist
---
The Exploding Plastic Inevitable (EPI) was a multimedia performance unit directed by Andy Warhol. It was comprised of several projectors showing his films (including Harlot, Blow Job, Empire, and Sleep), strobe and other miscellaneous lights, and dancers, accompanied by live music performed by the Velvet Underground and Nico, as well as recorded pop music.
Though Warhol had previously experimented with the projection of his movies to the accompaniment of music, the EPI itself derived from a film screening and a Velvet Underground performance during a presentation he made to the Society for Clinical Psychiatry in New York in January 1966. The first public performances of what was advertised as Andy Warhol's New Disco-Flicka-Theque began at the Dom in the East Village in April 1966. Subsequent presentations that spring took place in Los Angeles at the Trip, a nightclub which the sheriff closed on the third day, and in San Francisco at the Fillmore Auditorium, where it was not enthusiastically received. The ensemble subsequently toured extensively in the United States and Canada through the fall of that year.
Unlike most of the other light shows of the period, which privileged communal harmony, cosmic consciousness, and similar countercultural values, the EPI was aggressive, confrontational, and intentionally disturbing. The Velvet Underground's often discordant, extremely loud dissonant improvisations and Warhol's brutally stark films were reciprocated in the whips and sadomasochistic motifs of the dancers.
Ronald Nameth's film, also called The Exploding Plastic Inevitable, recorded several performances in Chicago in 1966, and the EPI also appears in Jonas Mekas's film Walden.
---
---
Print Text
---
Workdetails
original Title:

Exploding Plastic Inevitable

Date:

1966 – 1967

Genre: Performance
---
Workbiographie
Alternative title: Andy Warhol's New Disco-Flicka-Theque
---
---